"Make A Circle Like The Sun"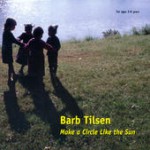 …is an exceptional recording of songs to sing with children, especially for ages 3-8 years, and one family members of any age will enjoy. A delightful mix of songs that touch on important themes and messages for children today, "Make a Circle Like the Sun" features the beautiful voice and music of Barb Tilsen. It was one of the recipients of the 2001 Best Recordings for Young Children Award given by the Children's Music Web.
These 19 songs are 100% kid-tested ranging from playful and fun, to thoughtful and moving songs about friendship, self-esteem and making peaceful choices. This recording includes an eclectic mix of songs and musical styles: lush harmonies, hand drum rhythms, rock'n'roll, gentle folk and a fun Latin sound. It was recorded with some of the best musicians in Minnesota including Kathy & Leo Lara, Marty Winkler, Karen Mueller, Bill Hinkley, Pete Mathison, Jim Kellerman, Michael DelMain, and Bruce O'Brien, plus the great energy of Soaring Voices Children's Chorus, and a special appearance by poet Roy McBride and his daughter, Lacinea. This recording combines the creative songwriting of Barb Tilsen with unique songs by some of the best songwriters in children's music today. It is highly recommended!
"Music CDs are a pleasant and useful addition to circle times with young children. Some favorite artists for twos and threes are Greg and Steve, Raffi, Hap Palmer, Barb Tilsen, Putumayo Kids, Dan Zanes, and Wee Sing."
from Teaching Twos and Threes: A Comprehensive Curriculum
– By Deborah Falasco

"Your recording is great! I wish every child care center could have this. It will make a difference in this troubled world."
– Bruce O'Brien

I have an enormous library of children's music. This recording stands out as the one from which I have drawn the most number of songs that have gone into my repertoire. It is simply chock full of keepers and winners!
– Jackson Gilman

"This is the best recording since I listened to Ella Jenkins with children in the early '70's. All ages enjoy this recording and even preschoolers can sing along, the words are so clear and the melodies beautiful."
– Mary Gutknecht

"I bought your CD the other day and I just play and play it. Thanks for the gift, and I'm going out to buy all my grandmother friends one at the May Day today. I'm just delighted to have made acquaintance with you. Thanks again, I just need to leave this message."
– Joan Gilbertson