Albums/Singles for Children
by Barb Tilsen
Albums/Singles for Grown-ups
by Barb Tilsen
---
---
"We Choose Love"
Available on Amazon, iTunes, YouTube and all major streaming services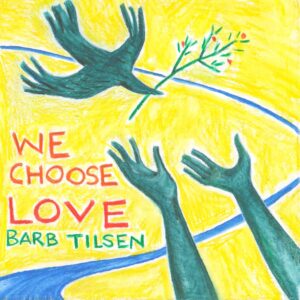 Listen or purchase at Hearnow
Themes of love, hope, survival and change have been common threads in my music since I first began writing songs many years ago. All the more important now in these times of deep division, a world at risk, and so many lives lost to the pandemic that has ravaged our globe. This pandemic shows so clearly what is at stake, how fragile and interdependent our world is, how essential our cooperation and our community is, and what profound changes we are truly capable of making when the will and commitment is there. In order to be truly effective, I believe the three—hope, survival and change—must come from the first, love. It feels right to give my song "We Choose Love" the title to this whole EP. I do believe love is a choice, and it absolutely guides the way ahead. I chose the other three songs on this recording to expand on that thought. I was deeply moved when I first heard Malvina Reynold's song, "Where the Tempest Blows." It so beautifully captures how the seeds of peace arise from the heart of change. I first wrote several of my verses for "Still We Rise" to the classic labor song, "Which Side Are You On?" But it soon started to take its own shape as I wrote wanting to address more fully the issues of pipelines, energy, climate change and finding a greener way. It feels ever more urgent as the organizing to stop Line 3 continues in northern Minnesota. I share my song Nibi Walk here as well, honoring the deeply spiritual, reverent and healing journey of the Nibi (Water) Walks organized by Sharon Day. Every step a prayer. For more information and to support this work, please visit nibiwalk.org The beautiful cover art for this recording comes from my dear friend Sandy Spieler, who lovingly designed an image that touches on the heart of each of these songs in beautiful ways.
Deepest thanks to those who've inspired and helped me with this recording this time around! I'm grateful for the support, feedback, organizing, artistry and expertise: Scott Malchow, David Tilsen, Becka Tilsen, Basil Shadid, Molly Tilsen, Eddie Tilsen, Amber Tilsen, Mark K Tilsen, Nick Tilsen, Stuart Stotts, Nancy Schimmel, Jennie Duberstein, Sharon Day, Sandy Spieler.
All songs by Barbara Tilsen, BMI except "Where the Tempest Blows" Words & music by Malvina Reynolds Copyright 1970 Schroder Music Co. (ASCAP). Renewed 1998. Used by permission. All rights reserved
Produced by Barb Tilsen and Scott Malchow. Arranged and Engineered by Scott Malchow. Artwork by Sandy Spieler
MUSICIANS BARB TILSEN: vocals, ukulele SCOTT MALCHOW: guitars, bass, keyboards
---
---
"Sacred Ground"
Available on Amazon, iTunes, YouTube and all major streaming services

Listen or purchase at Hearnow
"I wrote the musical poem "Sacred Ground" in the mid-nineties reflecting on the profound connection I felt singing to my own babies as well as to those of friends and family in my musical work with young children. Combining the singing voice and the speaking voice through poetry and song, I wanted to express the wonder I felt, the deep and abiding promise to cherish, protect and nurture these new lives and the world in which they grow. This recording has songs that I've written over many years and I realized that "Sacred Ground" is a fitting title for them all. That same commitment and connection weaves throughout, giving voice to the many different ways we love and care for each other, our children, our planet, and our future."
"I've been waiting many years for a recording of these songs, and the wait was more than worthwhile. Barb weaves threads of community, family, political organizing and deep love into every song. The production is immaculate, and her voice conveys a lifetime of connection and lyricism. Whether you need inspiration, comfort, or just plain delight, Barb Tilsen's newest CD will find a welcome place in your music rotation." – Stuart Stotts

"Sacred Ground is an such an important album for these difficult times. We are accustomed to wonderful things from the LeSueur-Tilsen family and its ongoing generations of artists. And we are accustomed to words of frustration and rage, surrounded as we currently are by death and wilful destruction. Which is why this album is special: these songs don't waste time on the negative. Their themes celebrate the positive–those endless resources we too often overlook in our struggle for survival. Barb Tilsen's beautiful voice is enhanced by ukulele, keyboards, mandolin, fiddle, harmonica autoharp, accordion and the spoken word. Gayla Ellis's moving photographs add to a perfect package. An album to listen to again and again." – Margaret Randall.
Stores selling Barb's CDs in Minnesota:
---
---
Ballad of a Bank Robber by Barb Tilsen
Available on Amazon, iTunes, YouTube and all major streaming services

To listen or purchase go to Hearnow
One of my songs for adults, written long ago! One quiet morning in the 1970's, I was sitting at my breakfast table with a cup of coffee and the newspaper. With sunshine streaming in through the windows, I relaxed enjoying the start of a beautiful day when one story in particular caught my eye. Just a few column inches, with the barest of details, it told the story of a bank robbery. A woman had held up a bank and afterwards as the teller tried to describe her, all he could remember was what she wore. This story stayed with me, always bringing a smile and a laugh, and later I decided to turn it into a song with some added details of my own to fill out the story!
---
---
a 2016 Winner of a Parents' Choice Recommended Award!
"Take The Seed"
Available on Songs for Teaching, Amazon, iTunes, YouTube and all major streaming services

Listen or purchase at Hearnow

"Take the Seed" is an award-winning recording of songs for children and their families by Barb Tilsen. Filled with an enjoyable mix of Barb's original songs, traditional tunes and beloved contemporary music written by some of today's most gifted songwriters, this CD is a great choice whether for the preschool/elementary classroom or the family porch and living room! Songs of planting & growth, dance & play, love & hope, range in style from pure folk to a little bit of reggae to a little bit of blues with lots of fun weaving all the way through. There are songs in French, Spanish, and Swahili; songs for the winter and songs for spring; songs about peace and the environment; and musical poems and games that make you want to dance! Some of today's top musicians join Barb on these delightful songs: Scott Malchow, Bruce Kurnow, Kathy Lara, Barbara McAfee, Karen Mueller, Rachel Nelson, Jack Pearson, Stuart Stotts, Ron Toles, Rich Manik and Soaring Voices Children's Chorus. This is a wonderful recording for the whole family!
"Just heard Take the Seed for the first time, and it's a winner!! Beautiful singing, arrangements, production, and choices of songs. The singer has a rich and expressive voice – the children's voices are beguiling, and the songs are catchy and varied. Some use banjo, a couple are more country, but all of them are "child friendly." This should be in the top rotation at any child care center or preschool, and on the short list for any new moms and dads. To me, it's at the caliber of "Singalong Songs for the Very Young" by Raffi – it's that good…" -Kristin Lems
Stores selling Barb's CDs in Minnesota:
---
---
"Five Little Squirrels"
Available on Amazon, iTunes, YouTube and all major streaming services

Listen or purchase at Hearnow
Produced by Barb Tilsen and Scott Malchow; recorded by Scott Malchow
Artist: Darius X dariusxstudio.com
Finger plays are a fun and familiar format for learning, growth and development for young children. In this enjoyable little story, a young squirrel learns how to share in an important lesson about bullying and friendship. Written and performed by Barb Tilsen.
---
---
"Make A Circle Like The Sun"
Available on Amazon, iTunes, YouTube and all major streaming services

A delightful mix of songs that touch on important themes and messages for children today, "Make a Circle Like the Sun" features the beautiful voice and music of Barb Tilsen. It's an exceptional recording of songs to sing with young children, and one that family members of any age will enjoy. This CD was one of the recipients of the 2001 Best Recordings for Young Children Award given by the Children's Music Web.
These 19 songs are 100% kid-tested ranging from playful and fun, to thoughtful and moving songs about friendship, self-esteem and making peaceful choices. This recording includes an eclectic mix of songs and musical styles: lush harmonies, hand drum rhythms, rock'n'roll, gentle folk and a fun Latin sound. It was recorded with some of the best musicians in Minnesota including Kathy & Leo Lara, Marty Winkler, Karen Mueller, Bill Hinkley, Pete Mathison, Jim Kellerman, Michael DelMain, and Bruce O'Brien, plus the great energy of Soaring Voices Children's Chorus, and a special appearance by poet Roy McBride and his daughter, Lacinea. This recording combines the creative songwriting of Barb Tilsen with unique songs by some of the best songwriters in children's music today. It is highly recommended!
"I have an enormous library of children's music. This recording stands out as the one from which I have drawn the most number of songs that have gone into my repertoire. It is simply chock full of keepers and winners!" – Jackson Gilman
---